How our Maps are made
If you are interested in how we make our maps, then take a look at our slideshow for a behind the scenes look at the whole process.

From photogrammetry (plotting the raw data from aerial photos) to field checking and cartographic editing, we describe how we make each of our products.

Note. pictures change automatically after 8 seconds. This feature is paused if the cursor is positioned on top of the picture. Use the navigation arrows in the bottom right corner to change picture, or alternatively drag the image left or right if using a handheld device.
Photogrammetry

The mapping is created by plotting from air photos, with a bird's eye view of the terrain. Every detail is accurately plotted, selecting what is useful to people navigating the terrain.

In The Field 1

The next - and key - stage of the process sends the surveyors out on foot over the terrain to capture changes that have occurred since the photos were taken.

In The Field 2

We map some of the most beautiful places in the UK and the survey team often spends several days in the field and must cover 25km each day on foot. Whatever the weather...

In The Field 3

Farmers put up fences, footbridges are repaired and replaced, foresters fell trees, plant new ones and make new forest roads. This is where the field checkers come in.

In The Field 4

It's fun to be paid to walk the hills, but ask Chris, Holly, Luke or Cameron, the long days over all sorts of terrain can be tough. And then there's the night in the bothy..!

Editing 1

The hallmark of HARVEY mapping is its clarity and detail. Back in the office, our cartographers are trained to review the draft map, ensuring it is clear and easy to read.

Editing 2

Skillful map design is fundamental. The picture provided by the map must bring out the most important information first and the map must have a careful balance between detail and legibility.

Finished Product

HARVEY has been making high quality maps for outdoor recreation since 1977. Have fun with your HARVEY map! We enjoyed creating it. We're sure you'll enjoy using it.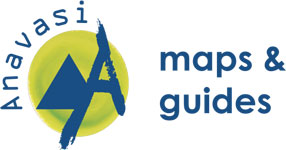 With thanks to Ivy Adamakopoulou and all the team at Anavasi