December 2020 - Go for a Run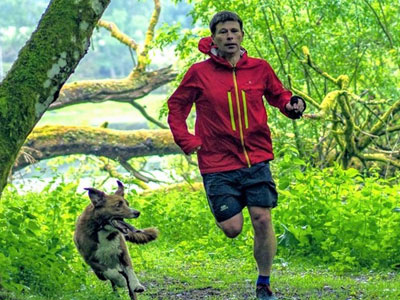 With many people taking up running during lockdown, we speak to Andrew Aitkin, Athletics Coach at Strathearn Harriers and coach at Performance Edge, about running.
If you're new to running, what are your top 3 tips to get started?
1. Don't start too fast, ease into a run.
2. Relax and enjoy the outdoors.
3. Get in touch with your local running club. You will get a warm welcome at a running club, meeting other runners, who can show you local routes you may not be aware of and provide moral support and encouragement. Scottish Athletics (governing body for running clubs in Scotland) and running clubs themselves have been running numerous virtual challenges throughout lockdown to help motivate, encourage and inspire runners to get out.
What are the benefits of running?
Running has numerous health benefits and the great thing is, most of us can run. It's one of the most natural things we can do.
The last 10 months have been challenging. Depression, stress and anxiety have become more common. Running offers a great release mentally. Endorphins are released into the bloodstream, triggering a positive response in the body helping to improve a low mood. When our mood is low our sleep pattern can be poor. Running benefits sleep, helping you to experience a deeper, higher quality of sleep.
The physically benefits of running are great. Running will strengthen muscles, tendons and ligaments as well as making our bones stronger. Our cardiovascular fitness is improved, reducing the risk of high blood pressure and heart disease. Running will also help with weight management.
Lastly, running is a great confidence booster. You can tell when a runner has just finished a run…they are smiling!
What makes a 'trail run'?
A trail run for me can take many forms. The most common vision is probably running along a nice muddy path. It does not need to be restricted to just that (although there is a great satisfaction in finishing a run and seeing your legs caked in mud!). As long as you get off the road and a paved surface, a trail run could be anything from running along a quiet country lane; following the course of a river along its banks; going through a wood weaving in and out of the trees; or out into open countryside. Heck you can even link some, if not all these scenarios together during a run.
Do I need a map to go running?
Maps are great for studying, discovering and planning new routes. Depending on where you are going it is a good idea to carry a map. If your run is in a remote area that may require navigation, carrying a map and compass is sensible.
Return to the
News & Features Blog