Bob Graham Round - Top Tips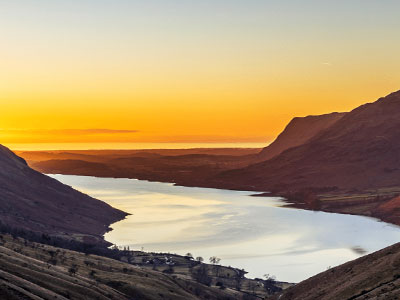 HARVEY Maps WorkingTogether member, Jack Oliver, of Lake District Adventures, tells us his top 5 tips on taking on one of the UK's toughest challenges.
The Bob Graham Round is often described as the greatest mountain run in the Lake District. I thought this was a bold statement given the possibilities we have here in the Lake District. It's my local round and one of the big three rounds in the UK, covering 66 miles, with approximately 8000 metres of ascent, across 42 of the highest peaks in the Lake District.
Since I have finished the round and had time to reflect on what an amazing day it was, I've now come to the conclusion that yes, it is indeed an absolutely amazing day of running in the Lake District mountains, if not the best day's running I have ever had.
The training and build up to the Bob Graham Round is a huge part of the journey. Whatever you put in, you will get out of the day! I spent over 8 weeks training for the round in one way or another.
On reflection of the Bob Graham Round, I wanted to share some of my personal experiences and give you some tips that will be helpful as you start to build up to the challenge of leaving Moot Hall.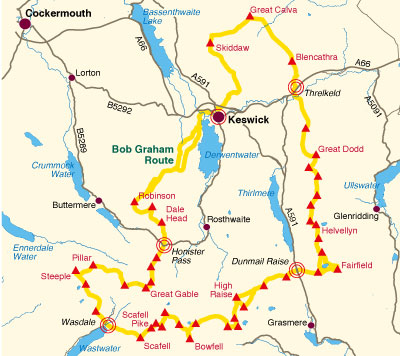 1. Learn the route
The best advice I could give anyone taking on the challenge is to learn the route and train on the route. There are so many advantages to doing that. You're going to know the lines to take up and down each hill, and you will know the correct summits and where you can add time and lose time.
It is important to condition yourself to the environment on which you are going to test yourself. I would recommend that at every opportunity for training, you get on to the hills that you will be running on.
Early in the training I picked up a
HARVEY Bob Graham Round map
, which I used on my recce and for planning my schedule. It is a decent resource and 100% waterproof.
2. Train your mind
A lot of people underestimate the mental side to taking on a challenge of this scale. We always think about the physical demands on our body but a lot of it is to do with your mental robustness and how you can deal with being uncomfortable.
3. Train on location
In my experience, I don't believe that you can train for the Bob Graham in the gym. Most of this links into the first tip - train on the route. The only way you can train and replicate going uphill is to go up the hill. The stress on your body and the way that you move, the impact of running from soft grass to hard packed trails, can't be replicated. If you are training, I would recommend time on the hills with some sprint sessions and strength training to mix it up. I did a minimum of 2 days a week of long runs back-to-back, normally aiming for about 100 km per week and 7000 - 8000 meters of ascent. Running in the gym is not the same as running in the mountains!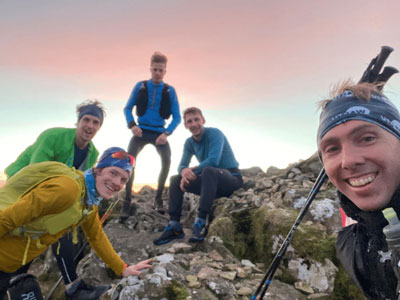 4. Support crew
The importance of an amazing support crew is one of the most underrated aspects in any challenge like this. I had some of the most amazing people, who know me really well, and they did everything they could for me. For them, the Bob Graham Round was just as important as it was to me and I can't thank them enough. My success was as much down to them as to me.
Make sure that your support runners know the route and that they are happy with leading on those legs of the Round. On Facebook there is a group called
'Bob Graham Round attempts 2022 - 2023'
. I found most of my support runners on there and it is a great community of people, all willing to come out and help. It's worth knowing that I had 3 people on each leg and out of those 15 people I didn't know 8 of them. Don't be afraid to ask the community for help - everyone is supportive!
A really good road support is highly recommended. I had my girlfriend Kirsty, who had finished work the night before and then spent the whole day just driving from carpark to carpark, to meet me with food, drinks and with my next set of support runners ready to rock and roll.
5. Keep your fuel varied
I dropped the ball on this and bought a lot of the same stuff - things like fruit bars and jelly babies - and put it in five bags. By the time I reached the end of each leg I was sick of all the same food. So, have some variety in your running food as well as at the end of each leg. I would recommend supplementing your food with sports drinks and gels. Try them while you're training and make sure that they work.
Don't forget the importance of enjoying the round! You will be training a lot and committing a lot of your time to the Bob Graham Round.
My favourite part? I loved it. The whole process from start to finish was brilliant.
Jack Oliver completed a winter anti-clockwise Bob Graham Round in 21 hours 26 minutes and set a new winter record for that category, beating the previous record by over an hour. Jack owns and operates a mountain running and guiding business in the Lake District called Lake District Adventures. Since completing the Bob Graham Round he has run the George Fisher Tea Round in 6 hours 48 minutes and is currently in training to run the Paddy Buckley Round in May.
You may also be interested in ...
- The definitive map of the route!
HARVEY Bob Graham Round map
- HARVEY Maps Magazine,
Issue 1, Spring/Summer 2021
, featuring the Bob Graham Round
Return to the
News & Features Blog