Wellbeing walks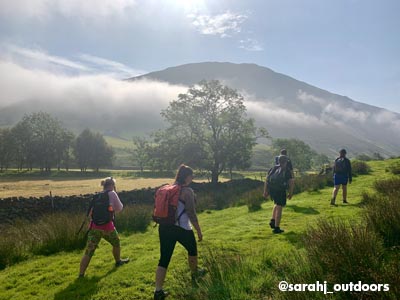 Walking as a regular exercise does wonders for our mental health and this couldn't have been more important in recent times. We spoke to one of our WorkingTogether members, Rose Gare-Simmons from NAVTREK, about raising money for mental health charities through their Wellbeing Walks.
In July 2020, in the midst of the pandemic, uncertain times and rules of six, we decided to set up group walks for people who were struggling with the social and emotional effects of the covid-19 pandemic, the isolation, or with mental health difficulties. Combining our skills and passions of promoting wellbeing and access to the outdoors we decided to put a plan in place to offer our time and support.
When I'm not working for NavTrek, I am a mental health practitioner and part time academic, and so I wanted to base these walks on an evidence-based model, to ensure that we were able to use the available evidence to maximise the potential benefits for people. The five ways to wellbeing model was developed back in 2008 by the New Economics Foundation, based on evidence gathered in the UK government Foresight project on Mental Capital and Wellbeing.
The model is a simple evidence-based public mental health message aimed at improving the mental health and wellbeing of the whole population. Our aim was to ensure that our walks met each of the five ways to wellbeing. We did this by encouraging social connections, being active in the mountains, educating people around the wildlife, flora and fauna of the Lake District, exploring the geology, promoting mindfulness, and raising money for local charities.
There is nothing new or surprising in the message of the 'five ways to wellbeing' other than knowing that there is substantial evidence to support their value in living well and that small changes can make a big difference. In effect they describe some of the key components of a healthy emotional or social 'diet'.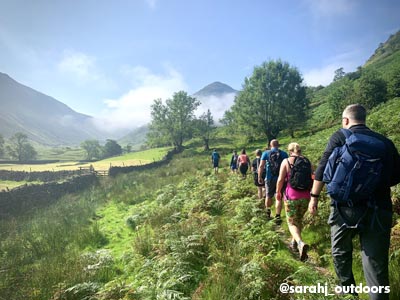 Evidence has also shown that spending as little as 20 minutes outside per day could boost your mood and energy levels. Being outdoors and in nature made sense for us and seemed to be an achievable way to support people at a time when social distancing was mandatory; most venues were closed, people could not meet in groups of more than 6 and much of the UK work force was WFH!
We decided to name our events 'Wellbeing Walks' based on the model we used to underpin the activity, and at this time, there was a real need for these. To date, we have raised over £3000, have volunteered over 120 hours each to lead these walks, and we have welcomed well over 50 people to our walks.
Since starting our walks, we have seen an increase in similar initiatives across the Lake District and further afield. There are now lots of amazing opportunities available to people who wish to access structured wellbeing walks and mental health walks. We have thoroughly enjoyed leading our Wellbeing Walks but now that the need for these activities is easing as opportunities grow, we feel it is time for us to take a step back and to try to focus on our business (teaching navigation!).
We have a few remaining walks planned but unfortunately these will be the last of our Wellbeing walks as we know them. For those who are looking for Mental Health walks or Wellbeing walks, if you get in touch with us we will be happy to signpost you to local charities and groups who offer a range of walks from big day hikes in the mountains led by qualified mountain leaders, to social low-level walks informally led by volunteers.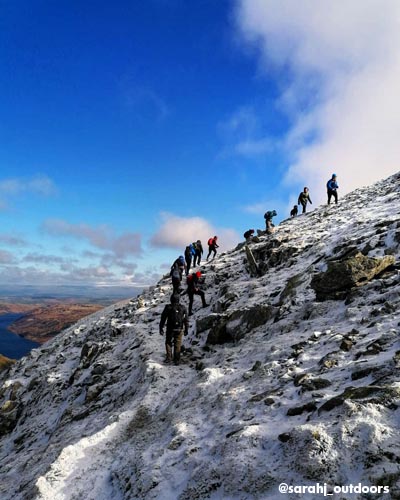 We will continue to facilitate social activities and to organise and lead our charity challenge events because promoting wellbeing and supporting our community is important to us as a small business. Although we will no longer be offering our monthly guided Wellbeing walks, we will continue to promote access to the outdoors for wellbeing; we love introducing people to the mountains and we will continue to do so through our Mountain Leader work at NavTrek and through our extra events and fundraisers."
Tell us about NAVTREK
We are a small grassroots navigation academy run by myself, Scott, and my partner Rose. We started NavTrek in January 2020, unbeknown to us that a pandemic would shortly follow!
We are very passionate about the physical and mental benefits of time spent in the outdoors and about sharing this with others. This drive to encourage and introduce people into the outdoor environment safely was the start of NavTrek.
Our ethos is all about having fun and enjoyment from what we do and we feel that this is how our students learn best. Our courses are designed to be engaging and sociable, with lots of games and activities to help put our students at ease and to cement the learning!
What courses do you provide?
We provide navigation training at all levels, from an introduction to navigation to advanced navigation. We provide advanced classes in night navigation and contour only navigation as well as NNAS accredited bronze and silver 2-day navigation courses.
With our vast range of courses available we have something for everyone whether they are new to map reading or looking to test and challenge their nav skills!
Where are you based?
We are based in Lancaster, and operate throughout Lancashire and the Lake District. We are very fortunate in that our location gives us great access to the Forest of Bowland, the Lake District, Yorkshire Dales and the Peak District and we are able to offer courses in all these locations for bespoke group bookings.
Do you have any exciting adventures planned?
We've been enjoying some downtime exploring the Outer Hebrides and the Scottish highlands, getting in a few mountain days before driving the NC500! We even managed to bag ourselves a back stage tour at HARVEY Maps and got to 'meet the makers'!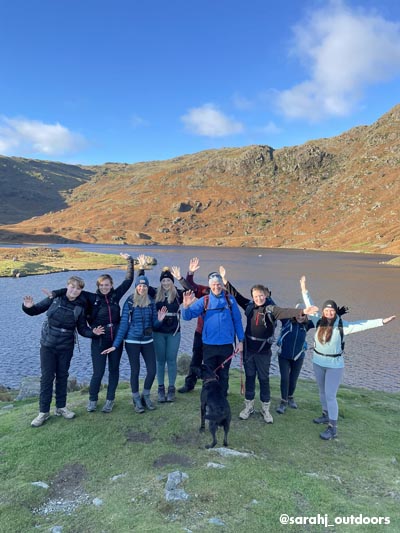 www.navtrek.org
The HARVEY WorkingTogether scheme aims to be of mutual benefit to professionals in the map-using field. The scheme was founded in 2019 to provide professionals with resources, support and greater access to HARVEY mapping. We are delighted to be working with members throughout the whole of the UK in promoting their activities and the benefits of map skills to their customers. If you are interested in joining the WorkingTogether scheme, please get in touch.
Return to the
News & Features Blog